I don't play much bass these days, so I'm selling this modded 1976 Jazz I've owned for the last 12 years.

The body was routed by a prior owner to house a battery for active pickups. I removed the battery and pickups and installed passive Fralins with a 10% overwind in the bridge pickup. The only other non-original parts are the bridge (Fender relic'd), CTS pots and wiring.

Everything else is original - body, body finish, neck, tuners, pickguard, string tree, nut, strap pegs, control plate, and Fender lefty case. The case handle's been replaced with heavy duty nylon boot laces that are surprisingly solid and comfortable.

It's got some nice, completely natural wear and patina on the body edges and back, and sports the pre-printed "76" serial number on the headstock that Fender did while transitioning to the headstock format used in the later 70's.

The frets have some wear - they're fine now but I'd expect them to need a crown in a few years if you play it a lot. It was also previously owned by a righty who drilled a hole lower bout for a strap peg.

10.6 lbs. Heavy bass = heavy tone. Really, it's got some deep low end to compliment the highs. A very mellow, balanced, scooped Jazz bass tone to my ears.

$1500 plus shipping from San Jose CA 95128. I trust you'll be happy with it, but if not you can return it for a full refund (minus PayPal fees) after 2 days, assuming it's returned in the same condition and you pay return shipping.

Thanks.

Geoff
Attachments: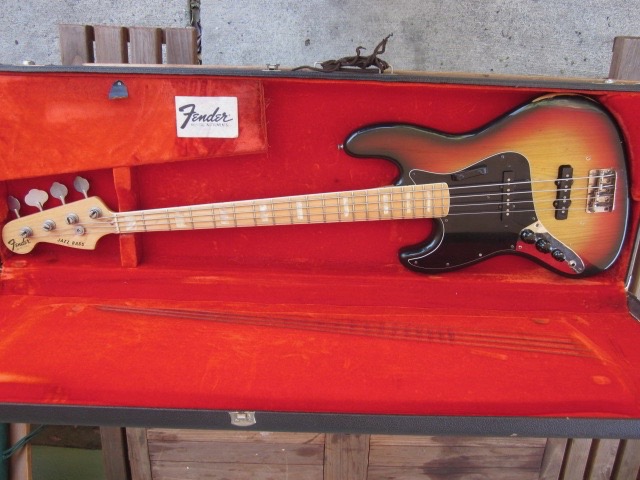 IMG_0140.jpg [ 117.2 KiB | Viewed 4720 times ]
Last edited by bbl on May 13th, 2019, 3:51 pm, edited 5 times in total.