My current pedal board is a bit unusual comparatively, since I generally don't use a ton of effects. 90% of the time my sounds are coming straight off Eden Navigator preamp, but I'll explain what I have here from right to left:
1.
Digitech Vocalist Live FX
: I'm a singer, so my mic runs straight into my Digitech. This enables me to control my effects for vocals on the fly, add tap tempo delays, harmonies, and arrange patches per song in set list order. There's 2 outputs - one goes to the mixer's snake and the second goes into my floor wedge. My band just purchased a Behringer XR18 digital mixer, so we will be on in ears soon and no more floor wedges needed.
2.
Line 6 G10 wireless
: I love this little wireless unit! No more belt pack required, you just plug it straight into your input jack. And, since I switch instruments throughout the night (I usually bring 3 basses to every gig), you simply pull it out of 1 bass and plug it into the next. It automatically mutes when disengaged with no pop or plug in noise. I keep it on the board to charge the receiver. A single charge lasts the whole night.
3.
Zoom MS-60B Multistomp
: My jack of all trades multistomp effects pedal for when I need that occasional effect. Some effects are excellent, IMO (Q Tron simulator, choruses) and some are not (Octaver), but it's served me well for my purposes and I like it's small footprint.
4.
Boss LS 2 Line Selector
: My A/B box. I used to use it as a 3 channel switch box A/B/C when I switched between 3 basses, but since I bought the Line 6 G10 I don't need to do that anymore. I still use it to switch between my normal basses and my Carvin LB50 Roland-equipped GK-3B midi bass, however.
5.
Eden footwswitch (above)
: This is the footswitch for my Eden Navigator preamp. On board, I can mute, on/off compressor, on/off enhance, and on/off turbo boost.
6.
Digitech Jamman Solo XT (not shown)
: This is not on my pedalboard yet, as I need to make room for it. I use this to store special effects and samples to trigger as needed (i.e. airplane sound at beginning of "Back in the USSR").
In rack/routing:
Eden Navigator preamp
: Instruments plug straight into input. There's a DI outputs on back ( both pre and post effects) that goes to snake, and a Mains out that routes to the input of the Galien Krueger 400RB.
Galien Krueger 400RB
: The GK powers everything. I also route Mains out of Eden into GK's input, allowing me to blend preamps of both units.
Roland GR33
: This is my pitch to midi synthesizer.
Speakers: Eden 210XLT and 210XST cabinets.
Attachment: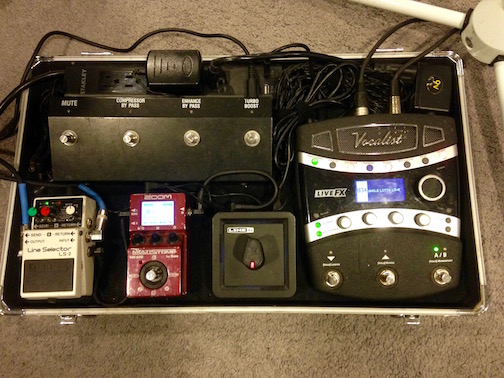 IMG_4607.jpg [ 88.66 KiB | Viewed 13955 times ]