I've been singing the praise of Sire basses since they were first introduced. They have been my main gigging basses for 5 years, and I currently own four of them. You simply will not find a better bass with these features at this price point.
Attachment: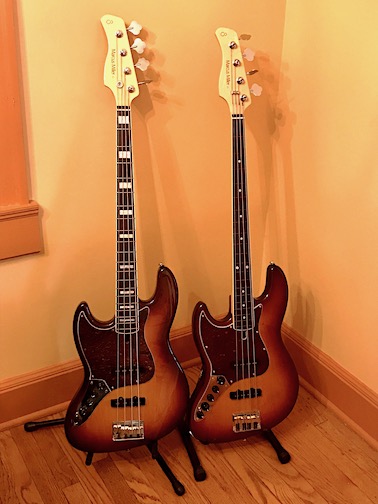 IMG_7117.jpg [ 84.18 KiB | Viewed 7075 times ]
2015 Sire V7 4 string
(Bass on left in photo)
This was my first Sire bass and was my main gigging bass until I bought the maple necked V7 vintage in 2017. Specs: Ordered direct from Sire. Made in indonesia. 4 color tobacco sunburst top finish. (Back is a burgundy). North American alder body, maple neck with rosewood fretboard and bone nut, pearloid block inlays, 1 ply ivory binding, 2 J style PUPs with alnico 5 magnets, heavy mass top load or string thru bridge, 3 band active 18v EQ/preamp, (bass boost/cut, treble boost/cut, stacked mid boost/cut and sweepable mid range frequency, pickup blend, tacked master volume/master tone, active/passive switch); open gear tuners, chrome neck pickup cover and gig bag included.
Condition: VG
: Two indents on lower heel of body, various light surface scratches, and nicks, none of which break the paint; some rusted pickguard, control plate bridge, and neck plate screws. Little plastic hinge arms of the battery door compartments have broken off. This was a recurring problem for Sire and they eventually switched to a wood battery compartment door that screws on. I've simply used a clear piece of packing tape across the compartments just to make sure batteries don't spill out, but there are plenty of better made aftermarket compartments to be found for under $10.
Asking $450 shipped lower 48 continental US
.
Attachment: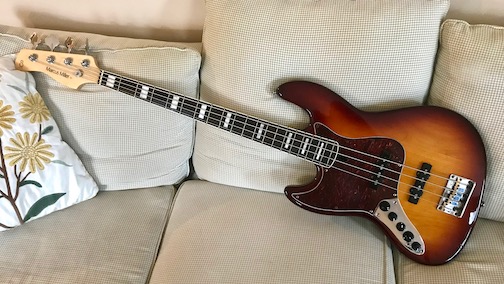 IMG_7100.jpg [ 63.05 KiB | Viewed 7075 times ]
2018 Sire V7 4 string fretless
(Bass on right in photo)
Ordered direct from Sire. It took 7 weeks to build, and you don't see many fretless lefties, so pretty rare as far as Sires go. Virtually the same specs as the other fretted one, except fretless with high gloss polyurethane finish on fretboard with fret lines and side markers. Comes with chrome neck pickup cover and original gig bag.
Condition: Mint/Near mint
: Never gigged, only played a handful of times in my smoke free home. The dot inlays on the fretboard are just stickers I added, and can be easily removed; very faint surface scratches on fretboard, barely noticeable but easy to buffer out if needed.
Asking $600 shipped lower 48 continental US.
Attachment: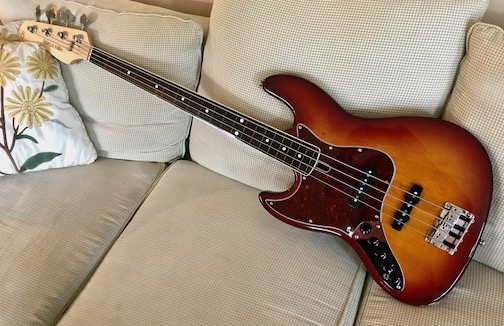 IMG_7108.jpg [ 103.16 KiB | Viewed 7075 times ]
If interested in both basses, I'll drop the price to
$950 shipped for both lower 48 continental US
. Any questions, more photos, or shipping fees outside lower 48 continental US, please PM me. Thanks!