MAKE ME AN OFFER I CAN'T REFUSE!

VERY Rare & Personally Signed Vintage Rickenbacker 4001 V-63 Bass!
LEFT HANDED & excellent+ condition!
Classic Fireglo lacquer finish.

Serial # YK 2067, from 1985.
The V-63 (Vintage RE-issue 1963) 4001 series was discontinued 20+ years ago, there are not many around.
All original Rickenbacker equipment, maple body & gloss varnished Vermillion Rosewood fretboard.

Has ALL the sought-for Rickenbacker tones & sounds:
the punchy bridge pickup & piano-like "Toaster" neck pickup.
Plays & feels WONDERFUL, perfect balance, neck is sweet.

Personally signed by the late / great CHRIS SQUIRE, of YES, in 1994 on the "TALK" tour.
I met him back stage thru some friends in the YES tribute band "Fragile".
His sig. has faded a bit, but I have a closeup picture of it when it was fresh!
HE took it from me and said:
"Why . . it's BACKWARDS!!", in his charming & jovial way,
after my Wayne's World 1 knee presentation of "I'm NOT worthy . . "

Last time I checked, this bass listed $ 3,289 + 15% for left handed = $3,782 . .
But THAT was NOT PERSONALLY SIGNED by CHRIS SQUIRE.

I can't work, or play anymore except on the couch . .
I'll be selling off all my other guitars, amps & basses soon, also.
RIC CASE with navy-blue velour included.

Ideal, VINTAGE bass for another lefty player . . .
I've had / been playing this bass since 1992, I will miss it.

The "MAGIC" happens when you play Am7 chord from "Silent Wings",
ABOVE the 12th fret.
NO OTHER bass get's that sound.

PERIOD!!

I'd LIKE $4,300 TO LET THIS BABY GO . . O.B.O.

I've VIEWED numerous other: V-63, 4001s for sale, NONE are as clean or as original as mine, and NONE were signed by the original: "Schindreleria Prima Taurus".

RSVP if interested, I'm in Cincinnati Ohio. -Joe
PS I have a dozen hi-def pix, can't upload here, please e-mail for those.
Attachments: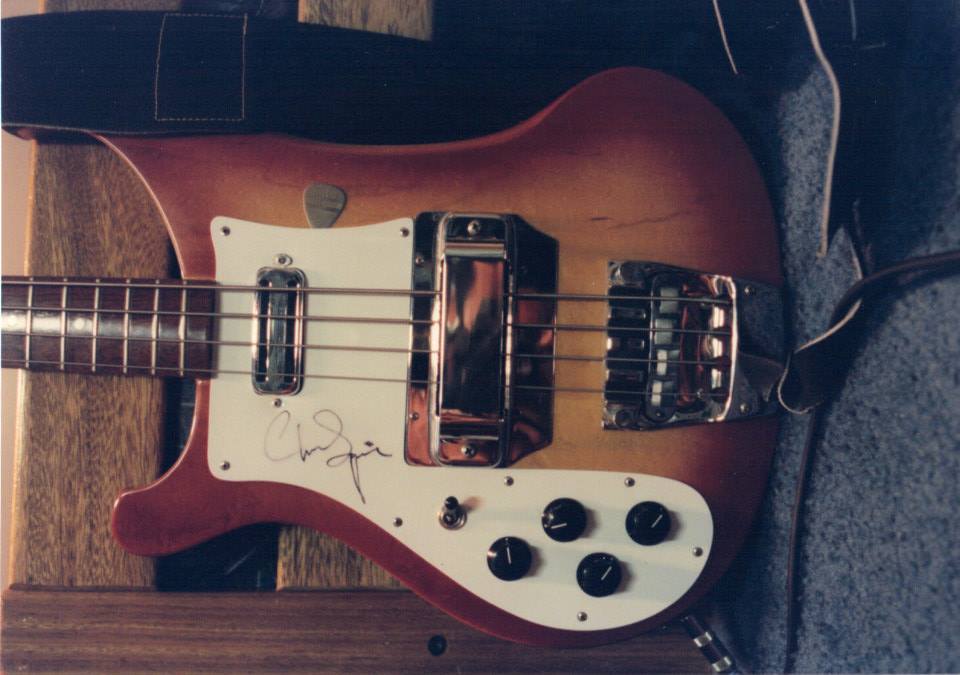 Img_Squirenbacker.jpg [ 69.99 KiB | Viewed 1598 times ]
Last bumped by Joe Gotlieb on December 7th, 2019, 12:54 pm.