Attachment: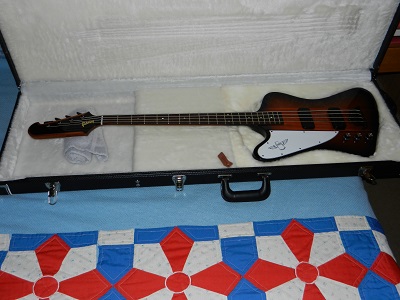 '13 T-Bird.jpg [ 64.25 KiB | Viewed 7581 times ]
Yeah, it would be - if that were true. While neck dive, IMO, is a subjective and personal thing, my '13 T-Bird is not high on my list of divers. And, I definitely own a few basses that are. On
MY
shoulder, it has a preference for hanging parallel with the floor - and won't go any further. But, if you wear it like lots of T-Bird players do; slung low, with the neck up at a steep angle? It's perfectly happy there...
And, mud? The original single pick up T-Birds may have been muddy-sounding - it
was
a Mudbucker pickup, after all; but the ones in my '13 are absolutely not muddy. They're just humbuckers. Very clean, loud humbuckers... I was amazed at how clean they sounded the first time I played it. Yeah, I was expecting mud, too - and didn't get it. It's so not muddy, in fact, that I am actually breaking my rule of "Only one of each bass", and am willing to pony up that much coin for another one...
My only worry is that the new one won't be as well made as this one is . Other than some fret sprout on 3-4 frets (and that's common for
any
bass/guitar that winds up out here in Vegas), my '13 is absolutely flawless. But, we'll see...