Hey, how about a new review? Haven't done one in ages, so here goes:
First some quick background:
I was looking for a nice LIGHTWEIGHT small portable bass cabinet for doing smaller gigs. My main setup has been relatively unchanged for almost 20 years: Eden 410XLT and/or Eden 210XLT & 210XST powered by my racked GK 400RB (Owned for over 35 years and still going strong) and Eden Navigator Preamp. I had previously purchased a Fender Rumble 115, and after two years I've had enough of it. Too tubby, too muddy, and no punch. Time to go.
Back in the mid-80's, my GK400RB used to power a Hartke 410XL. I first saw Jaco using one at a club in NYC and had to have it. I owned one of the first Hartke 410XL cabinets to be released, back when they had a nylon grill instead of the later/better metal ones. The GK head in conjunction with the Hartke cabinet was a very popular setup then, as many NY session guys (most notably Will Lee) were using them.
Fast forward to 2018, and nearly 30 years removed from using Hartke, I set out to find a suitable lightweight backup rig.
Specs:
Type: Solid State
Number of Channels: Single
Total Power: 500W Peak Class D
Speakers: 2 x 10" HyDrive Paper/Aluminum cone speakers
EQ: 3-band EQ, Shape control
Inputs: 1 x 1/4" (instrument), 1 x 1/8" (aux in)
Outputs: 1 x 1/4" (headphones), 1 x XLR (DI out)
Effects Loop: Yes
Power Source: Standard IEC AC cable
Height: 20.27"
Width: 12"
Depth: 19.6"
Weight: 34.39 lbs.
Features:
8
The Hartke HD500 features a pair of 10" HyDrive speakers driven with 500 watts of Class D amplification. The speakers are Hartke's proprietary hybrid of paper and aluminum cones. The top-mounted control panel offers a 3-band EQ to shape your sound for any genre, plus Hartke's Shape EQ knob with a variable filter for even more sonic control. Use the XLR direct output to send your bass tone direct to a sound system or recording chain. There's also an effects send/return for hooking up your outboard gear (line level only; don't hook your stomp boxes up to it). Complete with a headphone output for private practice sessions, plus an aux input to jam along with backing tracks. It weighs under 35 pounds! Unbelievable.
I'm only rating the features an 8, however because sorely missing is a speaker out option. At this price point, and given the competition, I think this is a pretty big oversight. Not that I would ever necessarily need to add another cabinet to this setup, since that would defeat the whole point of simple portability, but other competing products like the Ampeg BA-210 give you an external speaker out option and the Fender Rumble 200 gives you a few more bells and whistles like overdrive and a footswitch option.
Construction:
9
Designed and engineered in the US, but made in China. Seems to be built like a tank, with a tight, strong tolex wrap and a perforated steel grill. All knobs are metal and have a nice smooth movement. Again, better than the Fender Rumble.
Sound:
10
This is really where it matters, isn't it? And holy crap, is this a good sounding little combo. Loud as hell, with no speaker break up. I barely had it on 3, and it was making the walls rumble. It has 500 watts of peak power, and while I haven't been that impressed with this Class D stuff in recent years, I am with this little monster. Blows the Fender Rumble I owned out of the water. Punchy, crisp, and defined, all reminiscent of that old Hartke tone I remember, but a bit warmer due to the hybrid speaker design. Some may argue that Hartke stuff is too bright, but IMO, I'm thankful for having it a bit bright, as I can always dial down some treble vs. fighting to get more crispness into my former Fender Rumble, which always sounded mushy. My biggest concern was also just how much low end could I push out of a pair 10" only, and I'm happy to report that I could pump it with no noticeable tubby breakup. Plugged in my SX Ursa 6 string to see how it would handle the low B, and the tightness and punch remained intact. Again, the Rumble couldn't handle it. The EQ options on this amp are fantastic, and with the shape variable filter EQ option engaged - this feature activates a specialized preset EQ curve through selective boosts and attenuations across the frequency range - you can create some pretty radical new tones. Using in combo with my active Sire V7, there's no limit to the sonic palates I've been able to find. No on board compressor, but that's no problem, as I'd be using this with my little Zoom MS-60B multistomp, and there's a few very good compressors on there.
The true test will be in a real world situation, so I plan on testing it at my gig this Saturday. But overall, I'd say it's a very capable little powerhouse and it's nice to return to Hartke after all these years.
Attachment: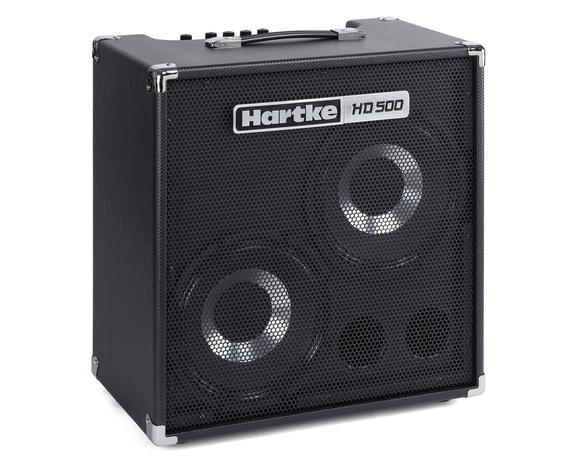 HD500-Angled_DoFI0f2-display.jpg [ 38.1 KiB | Viewed 4427 times ]