Hey, how about a new review? It occurred to me we're not using this area enough.

Today I'm posting my review of the Hadean UKB-23 ukulele bass. This was purchased directly through Rondo Music, though can also be found on Amazon. This is their mahogany model, though they also offer lefties in a flamed maple too (UKB-29) . This is Rondo's offering of a cheaper alternative to the popular Kala U Bass, listing for only $149. Doesn't come with a gig bag or case. For anyone not familiar with a U Bass, it's a little larger than a ukulele and in combo with it's preamp and unique rubbery strings results in a massive upright tone that beguiles the instrument's size.
The concept is nothing new. Guild first introduced this style of bass way back in 1985 in their Ashbory bass. (And later by DeArmond, which I still own a righty converted to lefty). But that instrument was strictly a fretless solid body (with "suggested" fret lines for intonation at best), and the original polyurethane strings were prone to snapping at any given moment. (Be thankful if your face wasn't in the line of fire when that inevitably happened). The newer uke models offered today have taken the Ashbory's initial concept a step further and are now offered in many varieties (fretted/fretless and acoustic and sold body offerings). String development has improved greatly as well, as companies such as Aquila have developed more durable strings with different plastics and an overall better/smoother feel, since one major complaint about these basses has been sticky, rubber strings that are difficult to move and slide on. There are even round wound and nickel plated over gut strings available now. Anyway, back to the review...
The first one I received had some horrible buzzing on the A string around the 5th fret, so I returned it. Rondo was prompt in sending me another one. The second one was better, but there was still a noticeable buzz. I then swapped out the stock Aquila strings for a set of their new Red Series Thunderguts. Better still, though a decidedly more midrange tone resulted than the stock strings. And still a buzzy A. I then realized that the piezo bridge had collapsed slightly under the string tension. After loosening and restringing the instrument again, holding the bridge in place, I got near perfect results with an ever slight buzz still left. I next put a thin shim under the piezo bridge only under the A and E strings. Better again. And finally, I just added a piece of paper under the A string at the nut. Finally, no more buzz! In the instrument's defense, there is a bit of a learning curve in playing one, not only due to the condensed size/tighter fret spacing, but it also requires a much lighter touch than I'm use to and the action is much looser and rubbery in feel than a conventional bass. If your placement of fingers is not right up against the frets or plucked at the proper angle or position, you will get some buzz or even poor intonation. (I pluck way back near the bridge for the tightest string tension available and also found plucking straight downwards 90 degrees helps vs. coming at the strings at any other angle).
The new Thundergut Red strings, while much smoother and easier to the touch to move on, still have an amount of stickiness and rubberiness to them, so I applied a fine coat of baby powder to them for the first week or so. Now they're fine. Regardless of the brand or design, however, one can expect a substantially longer acclimation period for these strings to settle in, as they take a while to eventually hold their tuning, so be prepared to tune often at first. The frets have some sharp ends, so at some point I will bring it in to my repairman for a dressing and filing (and maybe there's a better solution to all I've done to eliminate the buzzing), but since the whole point of buying this thing was not to spend the money on a U Bass, I'm reluctant to throw much money into getting it perfect. We'll see. The overall build quality and wood grain are very nice otherwise.
I really like the preamp on board. There's an onboard tuner, master volume, and 3 band EQ, and they do make drastic differences to the tone. The bass already has a crisp, trebly top end to it, so I've been rolling that back, as the piezo is very sensitive and will pick up every little scratch, tap, and touch of your fingers not only on the strings but on the body. if the treble's too extreme, the overall sound just sounds too crackly (not the preamp's fault, just the nature of the beast/piezo). I like the EQ right around 3 O'Clock (Bass), 1 O'Clock (Mids) and 10 O' Clock (treble). Preamp's powered by a 9v, easily accessible via a back panel, which also serves to access the bridge and knotting of the strings behind the bridge (Yes, there are no ball ends, you have to simply tie knots in your strings fat enough to hold them to your bridge).
So how does it sound? Fantastic, IMO. A huge booming tone that can approximate an upright bass. it is obviously a niche instrument with limited versatility (You're not gonna be slapping on it, though check out YouTube videos of guys who've strung their U Basses with the new round wounds. You may be pleasantly surprised) and a bit of a learning curve, but for anyone looking for a U Bass for a fraction of the cost and you're willing to put a little bit of time and work into it, I can recommend it. Just make sure you get a good one from Rondo, as I suspect the QC could be hit and miss.
http://www.rondomusic.com/ukb22nmlh.html
Attachment: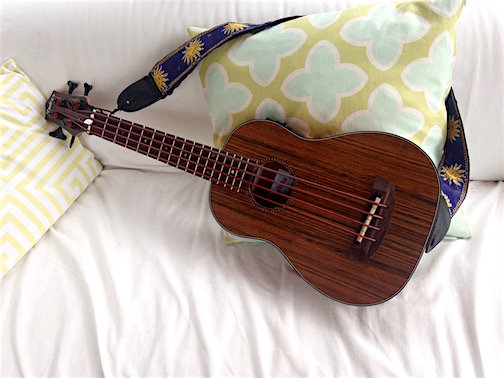 IMG_4831.jpg [ 63.88 KiB | Viewed 14773 times ]
Full specs:
Measurements
:
Overall length: 29 3/4"
Scale length: 20"
Length of body: 14""
Thickness of body: 3 3/4"
Width of upper bout: 7 1/2"
Width of lower bout: 10 5/8"
Aquila Nylgut string size: .085, .105, .145, .185
Width of neck at the nut: 1 13/16"
Width of neck at the 9th fret: 2 1/8"
Thickness of neck at the nut: 11/16"
Thickness of neck at 9th fret: 7/8"
Weight: only 4 pounds!
Set up with the same notes as a full size bass guitar (E, A, D, G), this portable bass ukulele is a joy to play
The included preamp for amplified use is configured with knobs for volume, bass, mid, and treble control
Built-in chromatic tuner with LCD display
The installed Aquila Thundergut strings absorb less moisture to assure tuning stability and provide increased accuracy of fret-intonation
Rosewood fretboard
Entire body is crafted with mahogany wood
Now with rear access panel to make string changing easy