OK, more in this bass.... turns out the knob was either installed crooked, or knocked crooked, and was rubbing against the body. I pried it off gently using to spoons as leverage, and re-installed it... it rotates straight and smooth now.
Pickups as adjusted from the factory....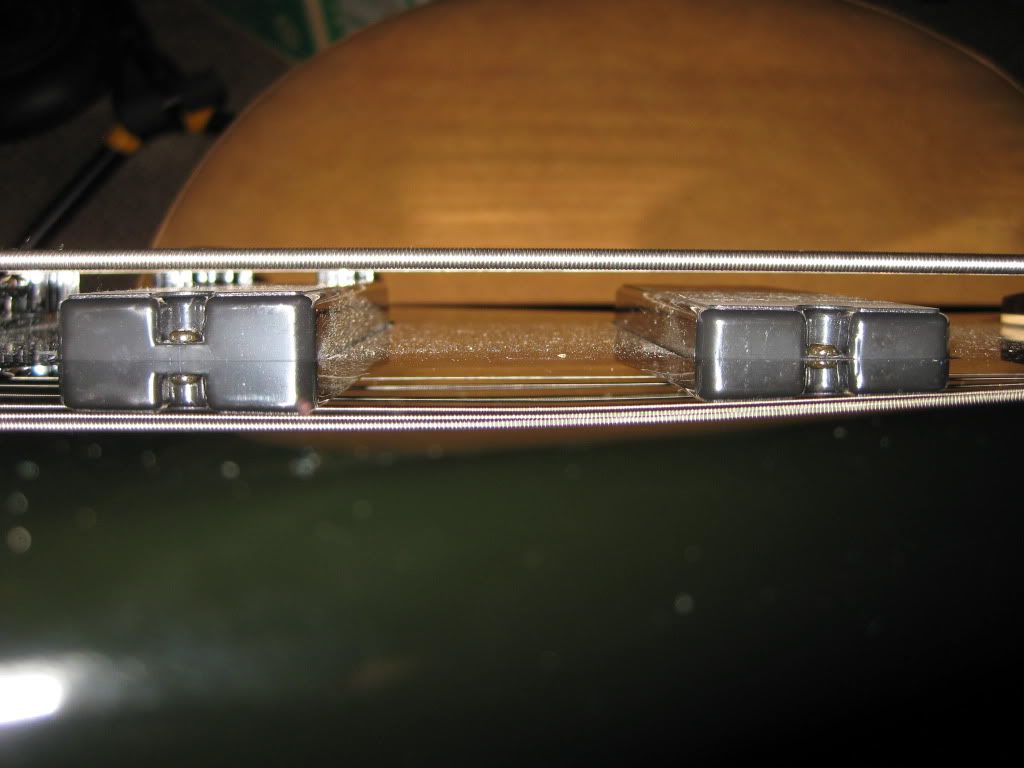 OEM battery still strong - showing 9.7volts... Tested the bass without the battery, and no sound! Totally active system - no battery/no sound! Unplug your cord when not playing....
Control cavity cover was a tight fit, and needed to be gently pried out using a thin blade... interior has shielding paint...
The neck is finished well, and the frets are dressed cleanly, with no sharp edges anywhere... it's broad, but flat, and maintains it's thickness up to the 15th fret, before joining the body.
Specs sheet from American Musical Supply website....
Body: Agathis body
Neck Material: Maple
Neck Type: GSR6
Neck Dimensions:

Scale Length: 34 inches (864 mm)
Width at Nut: 54 mm
Width Last Fret: 84 mm
Thickness 1st Fret: 21 mm
Thickness 12th Fret: 22 mm
Radius: 400 mm

Frets: Medium frets
Fingerboard: Rosewood
Inlay: Pearl dot inlay
Bridge: B16 bridge
Bridge and Neck pickups:

Name: Dynamix
Model No: DXH-6B
Construction: Humbucking/Passive
Magnet: Ceramic
Powerful with good midrange punch

EQ: PHAT-II (GSR)
Hardware Color: Chrome
Oh yeah, strung with Elixer Nano Webs... which seems to be what most new Ibanez's are strung with. Good feel, good tone, with a snappy edge if you want it....
Over all, a fun and well-built bass. I'm going to be enjoying learning chords on this!