Attachment:
File comment: Schecter Model T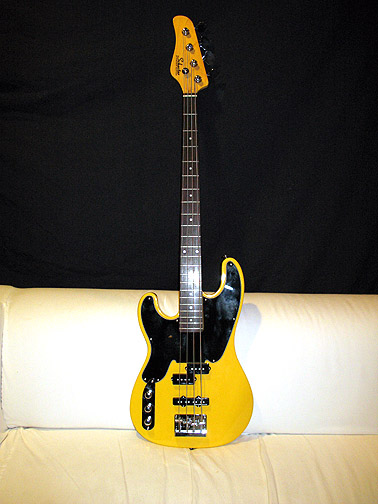 Schecter Model T.jpg [ 52.65 KiB | Viewed 11736 times ]
Specs:
Brand new 2010 model, made in South Korea, 34" scale, "butterscotch" finish alder body, maple neck with 22 fret rosewood fretboard, satin finish, 2 Seymour Duncan PJ pickups (SP-2/SJB-2), Grover tuners, Vol/vol/tone knobs, Schecter vintage bass bridge. No case. Street price: $649.00
Overview/History:
The Schecter Model T, aka the Rob DeLeo signature bass, was first issued over a decade ago by Schecter in the late 90's, and is a design based on a prototype model played by Mr. DeLeo as early as 1992. For the uninitiated, or for all others living under a rock for the past 15 years, Rob DeLeo is the bassist of the hugely successful hard rock band, Stone Temple Pilots, and he first used the prototype model on STP's debut release, Core. The design is a beautiful combination of old school and modern appointments, with a body style/pickguard aesthetic based on Fender's original single coil Precision bass but with the added modern touches of a contoured body, higher mass bridge, a later humbucking P style pickup in the sweet spot, and a second J style pickup near the bridge.
Side note:
DeLeo's tone is instantly recognizable for it's growly, aggressive midtone drive, and aside from his fantastic bass playing few people realize that he is also STP's principal songwriter too. So while Scott Weiland will continue to grab the headlines for his on stage/off stage antics, drug addictions, and threats to derail a great band with some of the worst lyrics ever written in rock history ("And I feel, and I feel, When the dogs begin to smell her, Will she smell alone?"), it's Rob that has proven to be STP's strongest artistic force. Still, despite Weiland's obvious shortcomings, I've been a big STP fan since day 1, and especially a fan of DeLeo, so when Schecter finally offered a left handed Model T (lefties have been available on again/off again since 2003), I've been itching to own one ever since.
The Model T has undergone various changes over the past decade, with changes made to body woods, neck profiles, electronics, pickups, and finishes. Earlier passive models featured a stacked tone knob configuration, while active models with EMG pickups were also issued. Various finishes have been issued over the years as well, in addition to butterscotch the other current color is black, which has come in both black and white pickguards, and discontinued colors transparent white, sunburst, and the very rare gold. US models are also currently in production, and are offered in blue with an ash body. Surprisingly, despite being a model offered for over a decade, there's little information out there about these basses, with few reviews, and/or owner's sound/visual samples. Schecter has done little to promote the model, and they rarely show up in local retailers where other Schecter models are much more prevalent, such as the Stiletto and Elite. Even DeLeo's name and connection with the instrument in recent years has quietly dissipated, and his name is no longer attached to the model name. As for lefties, availability info is sketchy at best. They were available in black only about 6-7 years ago then discontinued, but now are apparently back (or did they ever leave?). Even now, if you go to Schecter's website now, however, you'll see "none" under left handed availability for the Model T, but they indeed are. There is only 1 lefty dealer I know of who readily has them in stock (Adirondack), but the truth is lefties are available through any Schecter dealer but must be ordered from the plant. (I found mine through an ebay dealer). Ibanez has taken a similar approach with regard to their sketchy info about left handed model availability, for many models that are supposedly not available in fact can be ordered. They just don't want anyone to know it.

Features: 8
While the instrument is basically a simple PJ configured instrument with a volume for each PUP and a master tone knob, I'm giving it an 8 for the aesthetic beauty of the retro/modern Precision styling alone, which is simple, elegant, classic, and beautiful. That, and it features the highly elusive, much sought- after lefty control plate that our better resident luthiers have had to jump through hoops to source (Rod et. al: maybe you could find out who Schecter's source is?)
Attachment:
File comment: Will the real butterscotch please stand up?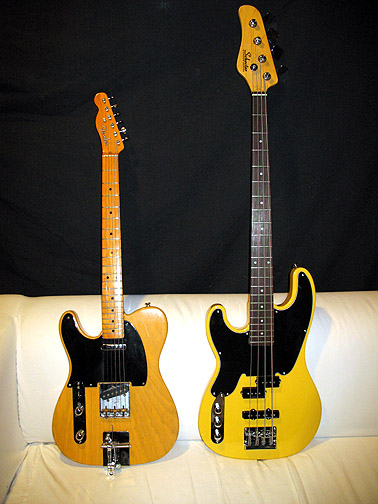 Model T and Tele.jpg [ 66.75 KiB | Viewed 11732 times ]
Action, Fit, & Finish : 7
Let's get one point of contention out of the way right now: the finish is called, "butterscotch". It's not even close to what I would call butterscotch, especially compared to my '52 RI Fender Tele, which IS true butterscotch. The Model T's finish is much closer to a graffiti yellow, perhaps slightly paler, but definitely much brighter and more vibrant than butterscotch. It's also a solid color with no wood grain show through, though that's to be expected with an alder bodied instrument. But no way is it butterscotch. The finish is consistent overall and well-done, however. Depending on your opinion, you'll either be very disappointed or pleasantly surprised with the finish. Since I just got finished posting a comment in another thread about how I always wanted a graffiti yellow finished bass, I'm in the camp of the pleasantly surprised. But be forewarned. The neck is a familiar Jazz bass profile, but with a feel similar to a cheaper grade J, ala a MIM Fender J. (Play a MIA or MIJ Fender and you'll immediately know what I'm talking about). Frets are well-dressed with no visible sharp edges or rough feel, and neck playability is comfortable but nothing spectacular. The headstock features a lacquered facing, but no finish at all on the sides or back of the headstock. Meanwhile, the back of the neck up to around the nut IS satin finished. Very strange to have half the back of the neck finished and the headstock left completely unfinished. I don't like it. Action actually came low and I adjusted it as well as PUP height and changed out the strings. Neck pocket is nice and tight, while electronics are well-arranged and neatly assembled. The control knobs do feel a bit cheap and flimsy, however, as does the input jack, and typical of most lefty builds, they're righty pots so they turn reverse. The taper of the pots, however, is functional, and you can dial in a gradual increase/decrease of each PUP and tone as opposed to the common "0 to 10" syndrome so common with cheaper made instruments. But how effective are the pots with the overall sound? Read on.
Sound : 5
I've tested the bass through my Eden Navigator preamp through Eden 4x10 cabinet, as well as an Ampeg head, and D.I.'ed straight to my little Behringer mixer. I've also listened through my Sony headphones and Ultimate Ears in-ear monitors. Considering I had a pre-conceived notion of what I was expecting from this bass based solely on Rob DeLeo's sounds and rockin' persona, I'm sorry to say that tonally it's a major disappointment. The bass has a surprisingly subtle, warm, and non-distinct sound with no presence, or top end growl or bite. Even with the tone knob fully up, I could not dial in enough clarity or treble. Lower strings are boomy, muddy, and lacking definition, while upper D and G strings sound thin, "honky". The overall tone does not sound balanced or even. The pickups are powerful, however, and were designed to offer as balanced an output for the single coil J as the P, as according to SD's site their readings are DC resistance/resonant peak of SPB-2: 22.4k/7.14khz and SJB-2: 16.6k/3.8khz, respectively. But for a loud set of passive PUPs they also never seem to have any presence or balls. The tone seems like an afterthought or in some far off land under a touch of reverb, and never "in your face". Since these are Duncan-designed Basslines and not the higher end Duncan Basslines, I won't pass a final conclusion on Basslines or Seymour Duncan in general, but I will say that this is the second bass I own with Duncan Designed Basslines in it and neither bass has impressed me in the tone dept. (The other bass, oddly enough, is the Schecter Baron H, which has a single MM style Bassline in it, though still a better sounding instrument than this). Changing the stock D'Addario strings (were they really D'Addarios as mentioned in the hang tag? Sure didn't feel or sound like them to me) to my Elixirs and adjusting the action and pickup height helped a little, but the PUPs just aren't cutting it. I'm generally not a big fan of PJ setups anyway, as the combination of both pickups fully up just doesn't have the same punch of a stock Jazz or Precision with it's PUP volumes/tones fully up, so at best I'd probably be using 100% of the P PUP with a touch of J dialed in for more top end bite and clarity. But these PUPs won't get me where I want to go. I'll keep the J PUP for now and replace the P PUP with something like a Dimarzio DP122 P to see if that gets me closer first.
Reliability/Durability : 8
Considering I own an older discontinued Schecter Baron H made in Korea, which packs amazing build quality and detail for it's (then) economical price point, I was expecting the overall quality of the Model T to be on par. It isn't. The back of the headstock specifically states, "Made in South Korea" as opposed to "Made in Korea", so I have to believe there's a distinction in quality. Did Schecter move their operations at some point or do they have multiple plants in Korea manufacturing at different quality levels/quality control? I dunno. But the fact is my Baron H, with the exception of the PUP's tone, is an extremely solid, well-built instrument, and the Model T has the aforementioned cheap feeling knobs/pots and mediocre PUPS and neck keeping it from being on par. The input jack also feels a bit unreliable as well, as I've heard a couple of crackles already.
Customer Support : No Opinion
Never had to deal with them.
Overall Rating : 7
I really wanted to like this bass, as I've been itching to get one for a long time, but I can't get around the fact that the bass is a bit of a letdown. The Model T does capture the vintage meets modern vibe visually, so visually it gets high marks, and it is well-constructed, but it does beg the question why more players aren't playing them. Perhaps it all comes down to it's tones, which, IMO, are dull and anemic, compounded with a solid but very budget feel and playability. Schecter does deserve to be commended for offering nearly every instrument they make in a left handed configuration, however, which is rare amongst manufacturers, and prior to this purchase, I had been a fan of them. But the most common knock against Schecter has always been their lack of impressive sounds, so while they usually offer great bang for the buck, affordable and well-constructed instruments, it's not the first time I've heard both firsthand and from others that their weakness is in their pickup choices and electronics. Still, I have to wonder if there are certain periods in the Model T's history line that offered better made, better sounding instruments. I plan on holding onto the instrument for now to see how I can better improve it, i.e. replace pickups, jack, pots, etc., since I do love the look of it, but out of the box I consider it a very average instrument.
Attachment: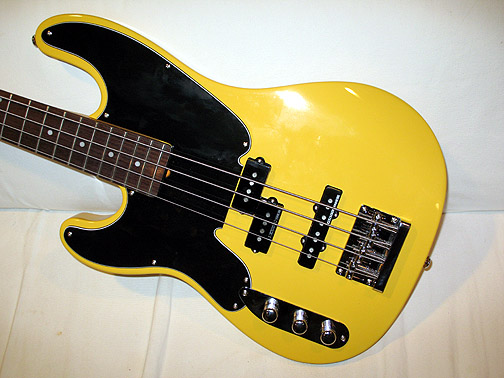 Model T closeup.jpg [ 64.77 KiB | Viewed 11733 times ]