It's been a while since we had a review posted here, so here goes. Sorry if it's a bit long in the tooth:
Background
: Jaco Pastorius was my first bass idol and mentor, as he was for many. When I discovered him, I spent endless hours trying to learn his solos note for note. I had the fortunate/bittersweet opportunity to play a gig with him before he passed, which is a story I've told here before, but this is specifically about the elusive, "Bass of Doom" sound and look. I had wanted a passive fretless Jazz bass again for a while. Stock lefties are not easy to come by, so I've built a few over the years using various stock Fender parts, Warmoth necks, various PUPs, and even butchering some necks by yanking the frets out myself (poorly). Despite my efforts, I could never quite achieve THAT sound or look close enough, chalking it up to the man's hands and genius.
Just a brief history
: Vintage is a company that's been around for over 25 years. Back in the mid-60s, a desire for independence in business led to John Skewes forming a small musical instrument agency and wholesale business based at his home near Leeds, England. Over time, his new business steadily began to take off, and soon included throughput of some self-branded lines of musical merchandise. That effective early decision to carry self-branded merchandise continues to this day, with their signature Vintage® acoustic and electric guitars and basses which were first produced and sold in 1995. Today, Skewes is the largest family-owned independent musical merchandise distributor in the U.K. and the Vintage 'family' includes Fret King® electric guitars, Pilgrim® Banjo's and Mandolins, Laka® Ukuleles, Encore® electric and acoustic guitars, and Kinsman® cases.
The central idea behind Vintage® is to offer accessibly priced, vintage-looking guitars with great finishes, quality parts, and features that are typically found on guitars costing upward of a thousand dollars. So, to design an industry-leading line of professional but affordable guitars, Trev Wilkinson joined forces with JHS over a decade ago. These instruments now include class-leading Wilkinson®-designed hardware. Most Vintage brand instruments are manufactured in Korea, though they do have a US Pro shop as well.
Vintage Icon Series
: A few years ago, Vintage introduced their Icon series, and what was intriguing was they offered a left handed version of their earlier Jaco copy fretless bass, so I bought one. This version was not distressed to the level the new one is. It had some inaccurate side wear and was more or less simply a sunburst Jazz without a pickguard and a rosewood fretless neck with plastic fret inlays. While I was impressed with the overall build and electronics, the neck was problematic, as there was major fret sprouting and the fret markers were sticking out of the sides of the neck. Rather than return the instrument, I figured I'd try to get closer to Jaco's bass by yanking them out and filling the fret grooves with rosewood. So I started doing that, got busy with other things, and the neck's still lying dormant awaiting completion.
The new Vintage LV74MR Distressed Icon Fretless
: I believe Vintage has been offering righties for a while now, but lefties just came out. (
Caveat:
I usually am not a fan of deliberately distressed instruments, but when it comes to Jaco and the pix I saw of this bass, I HAD to have it). I purchased mine on Reverb from South Shore Music for $449. My sales rep, Peter Volpe, did a wonderful job communicating and assuring me that they would properly inspect the instrument and set it up prior to shipping, as I explained my experience with fret sprouting on my previous Vintage instrument. I'm happy to say the bass arrived fine and perfectly set up. It doesn't come with a case or gig bag, however.
Specs:
Body: Eastern Poplar
Neck: Hard Maple – Bolt On, Rosewood fretboard, Graphtech Nubone XB nut
Scale: 34″/864mm
Frets: Fretless w plastic fret line markers
Neck Inlays: Pearloid Dot
Tuners: Wilkinson® WJBL200
Bridge: Adjustable
Pickups: Wilkinson® JB x 2 (M) WJB00, (B) WJB800
Hardware: Nickel
Controls: 2 Volume/ 1 Tone
Build
:
Quite frankly, I'm extremely impressed. The distressing is really superb, right down to the rusted hardware, (even one spot shows oxidation), simulated sweat stain wear on the back of the neck, forearm wear on upper heel, scuffs, scratches, even the drilled holes that would have held the original string mutes on Jaco's '62 Bass of Doom. Vintage really did their homework. Bass weighs in at 8.5lbs, lighter than a typical J and comfy. Control cavity's clean and well wired with neat solder joints.
Rating: 10
Playability
:
The neck feels effortless to play. I can glide with ease and end up where I need to be. Very easy to stay in intonation, even without glancing at the fret markers. I'm not crazy about having them, and they're not consistent with Jaco's bass either, but if you're a fretless player you learn to either use them or ignore them if needed. The profile isn't quite a typical J, however. Quite frankly, I'm not sure what it is. I took out my radius measurements, and the radius falls somewhere between 7.25 and 9.5". Strange. It doesn't feel like either in my hands, it feels flatter, which is fine for me, especially on a fretless where you want lower action without fretting out. Fretboard edges could possibly be rounded a bit more, which I may do, but truthfully, it's nothing unplayable. It's also a shallow C, I believe, so not as rounded as your typical J or a vintage J. Back of neck is a satin finish.
Rating: 10
Sound
:
So this is what you've been waiting for, right? In two words, HOLY SHIT! It's Jaco! I'm obviously not Jaco, but damn if this bass doesn't nail his tone. The Wilkinson PUPs sound fantastic. When you're going for his sound, it's really mostly about that bridge PUP and the tone knob, isn't it, played back near the bridge, as he rarely used the neck PUP. (Side note: for a rare recording of Jaco using only the neck PUP, check out, "Chromatic Fantasy" on Word of Mouth). Most PUP attempts at his tone never seem to capture the "throatiness", but this bass absolutely does. It just sings. But what I also love about it is it's just a great sounding/playing fretless J regardless, with plenty of "mwah" and expressiveness if you're more of a portamento/vibrato player than he was. (I tend to be, since Mick Karn was also a huge influence). There is the typical 60 cycle hum you get with single coil PUPs when soloed, so I may do some shielding at some point, but nothing noisier than any other typical J PUPs. Typical of a budget bass, the pots are likely righties (Honestly, I don't know what's right or wrong anymore because I'm so used to turning my pots counter-clockwise to open them up), and the tone pot taper has a pretty narrow window, being fully open past the 25% mark. But with a little finesse you can get varying tonal range in that lower 25% if you have good tweaking skills.

Volume pots do have the full taper range you'd expect.
Rating: 10
Bottom line
:
A perfect 10 across the board? Truthfully, I can find nothing wrong with this bass. It's wonderful, though I can't vouch for Vintage's QC consistency, so you may want to have your dealer inspect it first as I did. Is it a perfect Jaco replica? Well, obviously not. The headstock obviously can't copy Fender's trademark design, though I like the Vintage headstock (way better than Sire's faux Warwick Buzzard looking thing. Ew!). The overall finish on the bass is matte not glossy, as is the back of the neck. Doesn't bother me, but maybe at some point I'll buff it up to more of a shine, but how much shine was left on Jaco's after years of wear and tear anyway? The white fret markers obviously aren't accurate, as Jaco yanked his frets out and filled them with boat epoxy as well as finishing his fretboard with it. If I decide to "temper" the look of the fret markers, I won't be dumb enough to yank them this time, I'll just stain them. I could also consider epoxying my fretboard down the line too, but for now, there's nothing lacking in sound that warrants me to do so. Body's poplar and not alder. What else? Inlays are pearloid and not clay like a real '62. For $449, am I going to complain? The PUPs say, Wilkinson on them, as does the bridge. So in summary, it's not a pitch perfect Jaco replica, but it sure captures the vibe regardless. Fender charges $5000 for a Jaco replica, and that one might be closer if that's truly important to you. There's no way the Fender is $4,551 better in tone. I simply wanted a J bass that looks, sounds, and INSPIRES me to play expressively and creatively, while offering a respectable homage to the player that inspired me to be a bassist. I'm happy to say this bass hits the mark on all of those points. It's quite simply one of the best passive fretless J basses I've ever owned, and I can't put it down. For $449, you can't go wrong. Again, Vintage did their homework, and it really feels like a labor of love and respect for the man. And there's something about that distressed look and feel that just makes you think you're playing something broken in and with mojo (placebo effect?).
Attachment:
Screen Shot 2021-02-06 at 8.58.34 AM.png [ 241.34 KiB | Viewed 11090 times ]
Attachment: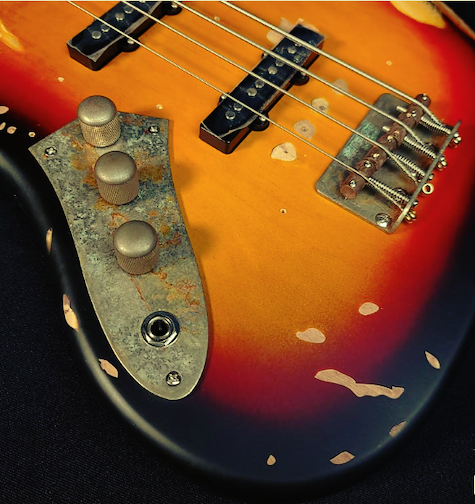 Screen Shot 2021-02-06 at 8.59.03 AM.png [ 455.17 KiB | Viewed 11090 times ]
Attachment: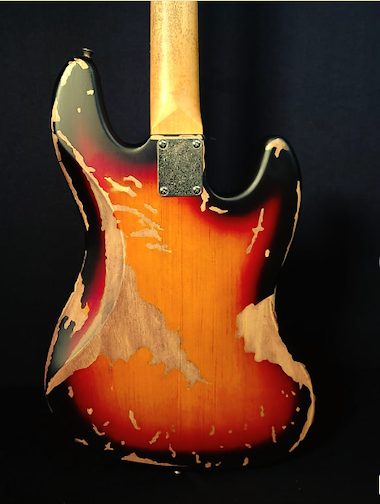 Screen Shot 2021-02-06 at 8.59.26 AM.png [ 260.41 KiB | Viewed 11090 times ]
For more pix of my bass and a link to South Shore Music and my purchase, go to:
https://reverb.com/item/38229649-vintage-lv74mr-icon-distressed-lefty-jp-fretless-4-string-bass