O.K., I got the Gator Pro-Go bag yesterday. WOW, what a great gig bag! It's one of the better mid priced bags I've seen. It is beautifully made, great straps that can be adjusted to actually sling it lower as not to hit every door frame and ceiling fan you go under! The materials are very nice. Now, the moment of truth. YES, IT FITS!*
*= The lower horn, pushes against the side handle area quite a bit. I want it to fit inside, in a lefty orientation...not upside down. If you remove the bottom cushion pad, which is only attached with velcro, the bag's length is enough for the T-bird to fit into!
What I did last night, was push the bass into the bag, hoping to make the interior foam/ fleece lining 'compress and break in to the shape. That required a bit of fudging to get the zipper closed as it approached the side handle. It closed, and since the zipper is pretty stout, it held fine. I took it to a local jam last night. No problem. But it's a concern. So, being a luthier, I thought about 'helping' the bag break-in to the weird shape. I clamped a piece of wood into the interior, and squeezed the crap out of it. It's sitting now, and we'll see if there has been enough compression to take some of the pressure off that area next time I use it.
Here it is, before the side squeezing process.
Attachments: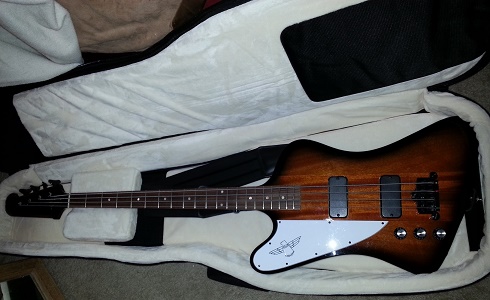 20180620_182312 cropped and resized to 30 percent.jpg [ 59.7 KiB | Viewed 793 times ]