I really like these basses too, though mine's been heavily modified and I'd like to find an unbutchered one (Mine was originally a B-302F fretless and somebody added frets, and added different PUPs). And mines' in the walnut finish. Yours is the nicest finish I've seen in a lefty. I think the price he's asking, given the condition and the mods, is a bit much though.
They're also a bit prone to neck dive, IMO, as mine likes to head for the floor. Nice fat neck though.
Isn't the bridge PUP on the B-302 in the same position is it is on the B-301? It looks to be based on your photos.
Famous players? It seemed some punk players of the late 70's liked them, particularly The Plasmatics and The Damned:
Attachment: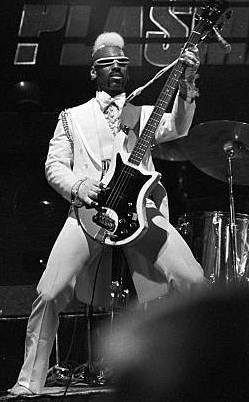 97619719.jpg [ 19.74 KiB | Viewed 1228 times ]